Pride Mobility Go Go Endurance Li
Need financing? Apply through Terrace Finance today. Click the link below to start application.
Description
With the Go-Go® Endurance, traveling has never been easier! This 4-wheel scooter has everything you need for a safe and convenient trip. With the standard 8AH airline-safe lithium-ion battery pack, the Go-Go Endurance is perfect for air travel. Feather-touch disassembly provides the portability you need. When you arrive at your destination, enjoy a smooth, comfortable ride with Comfort-Trac Suspension.
Model: Go-Go® Endurance Li1
Part Num ber : S54LXLIT
Weight Capacity: 325 lbs.
Maximum Speed2: Up to 4.2 mph
Up to 4.2 mph4: 3.25" at side deck
Turning Radius4: 4B.25"
Overall Length4: 42"
Overall Width4: 20.5"
Seat-to-Deck Height4: 16.25" - 17.75"
Seat-to-Ground Height4: 21.25"- 22.75"
Front Tires4: 2" x B" solid
Rear Tires4: 2.5" x B" solid
Range Per Charge2, 3 : Up to 7.2 miles (BAH)**, Up to 14.4 miles (16AH MAXX)5
Total Weight Without Batteries4: 93.5 lbs. w/o battery pack; with BAH battery pack**:101.5 lbs.; with 16AH MAXX battery pack5:105.5 lbs
Heaviest Piece When Disassembled4: 40.75 lbs. (front section)
Standard Seating: Type:Compact, foldable
Material: Black vinyl
Dimensions: 17" x 17"; 20" x 1B"
Weight: 23 lbs. (17" x 17"); 27.75 lbs. (20" x 1B")
Motor Output: 24-volt DC motor,sealed transaxle
Brakes:  Regenerative and electromechanical
Battery Requirements4: Size: B AH lithium ion pack** or
16 AH (MAXX) lithium ion pack5
Weight: B lbs. (BAH); 12 lbs. (16AH MAXX)
Battery Charger: Off-board, 3.5 amp (lithium ion)
Warranty: Frame: Lifetime limited
Electronics: 2-year limited
Drive motors: 2-year limited
Batteries: 2-year limited

FDA Class II Medical Device*
Go Go® Endurance Li Accessories


Double Cane/Crutch Holder

Single Cane/Crutch Holder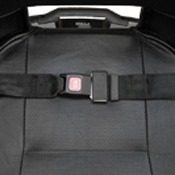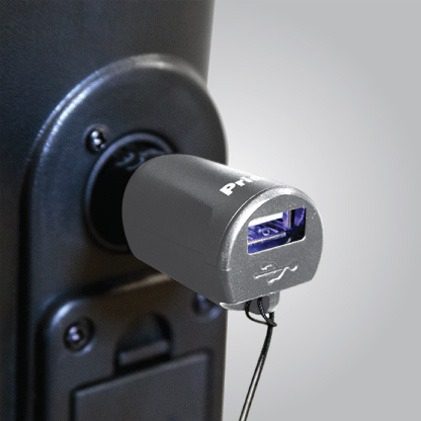 DISCLAIMER: Not all accessories are available for all products. Please speak with your Provider for details and availability.
Additional information
| | |
| --- | --- |
| Color: | Matte Garnet Red, Euro Grey |